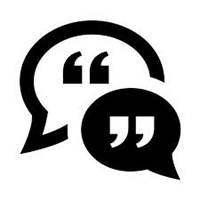 Experiences with "Talking Therapy"
Many of our former patients have stayed in touch with us to share the positive personal growth and happiness they attained while participating in psychotherapy. Here are just a few excerpts from correspondence we've received over the years:
A Political Analyst:
Mrs. T. came for treatment of panic attacks. After one year her panics were occurring far less frequently and she felt in much better control. She said that the most important assistance from therapy was the chance to get feelings out that were previously hidden inside her. She also learned certain coping strategies.
A Big Change:
A nurse entered therapy for her depression and mood swings. After three years she wrote to thank her psychologist and said that without therapy she would not be "on her way to becoming the person I want to be." She stated that she definitely would not be married were it not for therapy, and that her treatment had been helpful for "all the lives around me."
A 40-year-old Successful Businesswoman:
A former patient wrote: My therapy helped me focus on what I needed and wanted in a relationship. My therapist worked with me to help me determine if the men I was dating were appropriate and, most importantly, ready to be in the kind of committed relationship I wanted. I was eventually able to meet a wonderful man and navigate a long-distance relationship. With her support, insight and guidance, I overcame various other obstacles that arose to move forward in the right relationship for me and take the big step into the next phase of my life…getting engaged and married to a wonderful guy!
A Theologian:
A seminary student started therapy because he was struggled with feelings of inadequacy. Therapy helped him to gain confidence in himself. After graduation he took a challenging job in which he was responsible for developing a new ministry. He was required to develop his own ideas and strategies, and to answer to large donors. The patient stated that without therapy he would not have had the confidence to accept the challenge, at which he has now succeeding.